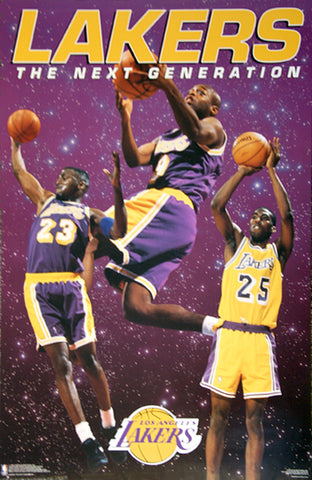 L.A. Lakers "Next Generation" (Ceballos, Van Exel, Jones) Poster - Costacos 1995
Publisher: Costacos Brothers, 1995
Size: 23" x 35"
Condition: Brand New, Original Warehouse Stock!

Item #: MBB110
---
---
It was a "Next Generation" that never quite materialized...but it was fun while it lasted! In the years before Kobe and Shaq landed in LA, it was young players like Cedric Ceballos (left), Nick Van Exel (center), and Eddie Jones (right) who had the future of the franchise in their hands. With awesome game-action photography, and a beautiful purple-and-gold design, this poster is the perfect celebration of a trio of talented stars who never quite made it to the promised land. Perfect for the wall of any Lakers die-hard!
Note: this poster is long out-of-print; limited quantity remains in our warehouse.
Shop for more related posters in these collections:
---
We Also Recommend