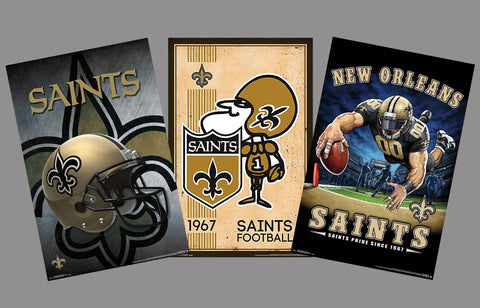 COMBO: New Orleans Saints NFL Football Logo Theme Art 3-Poster Combo
Publisher: Trends International Inc.
Size: 3 Individual Posters, approx. 22.25" x 34" each.
Condition: Brand New!

Item #: PSAC-047
---
---
Amazing value, awesome style - the perfect way to decorate the walls of any true Saints fan! For one low price, you get no less than three timeless full-sized posters featuring the legendary NFL franchise: "Official Helmet Logo Style", giving you the  classic trademark golden-domed look of the team; "NFL Heritage Series", featuring the beloved "Sir Saint" logo style used during the earliest years of the franchise, along with the founding year of the team, 1967; and "Saints Pride", featuring a fearsome super-human running back storming his way into the end zone with amazing style. At only $24.95, this limited-time offer gives you these posters at a huge discount off regular price, and all are packaged together neatly in one shipping tube, so you'll save even more on shipping! Whether you are dressing up your own room, or are looking for the perfect gift for the football fan in your life, this is for you - grab yours now, before it's gone!
Posters Included: CN15446-16 Helmet Logo, CN13177-14 Heritage, CN15990-17 Saints Pride.
Shop for more related posters in these collections:
---
We Also Recommend