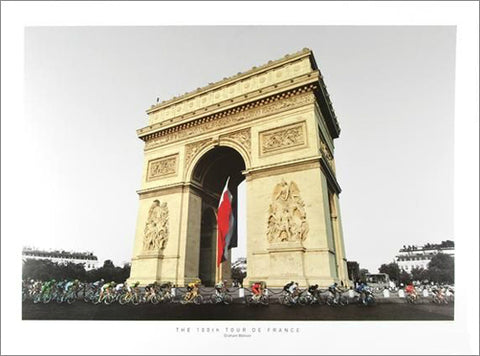 100th Tour de France "Arc de Triomphe Peloton" Premium Cycling Poster Print - Graham Watson 2013
Publisher: Graham Watson, 2014
Size: 20" x 28"
Condition: Brand New! Printed on premium-quality gallery stock.

Item #: GW-9WAP80
---
---
THE 100TH TOUR DE FRANCE
Graham Watson
Celebrate the unique ending to a historic Tour de France! From legendary cycling photographer Graham Watson's gallery collection, this amazing print features a breathtaking look at the peloton under the Arc de Triomphe in Paris, as it arrives not as usual in mid-day, but late in the evening as the sun sets and the lights rise on the Champs Elysees. As Chris Froome rides by front-and-centre, glowing triumphantly in the Yellow Jersey - SNAP! The moment is preserved for all-time, and is now available for your wall. Adding to the majesty of this print is the two-tone effect, in which the entire scene is reproduced in classic black-and-white, with the exception of the peloton's jersey and the massive monument adding a glorious rainbow splash of color. Published on premium-quality gallery stock, reproduced with perfect color and clarity, and designed with an elegant white-bordered layout, this is both a spectacular work of photographic sports art and a great collector's item. A rare look at France's annual cycling showcase, perfect for a nice frame and a prominent place on the wall of any fan! A modern masterpiece from the great Graham Watson.
Shop for more related posters in these collections:
---
We Also Recommend