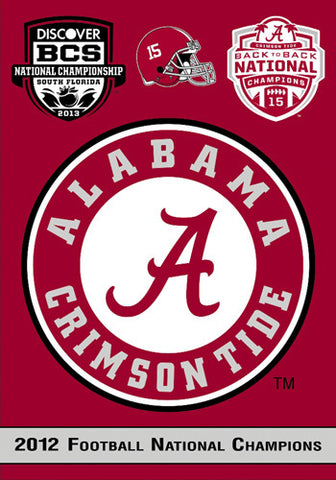 Alabama Crimson Tide 2012 National Champs Commemorative Banner (Back-to-Back!) - BSI
Publisher: BSI Products Inc.
Size: 28" x 40"
Condition: Brand New!

Item #: BSI-36802
---
---
Show your 'Bama pride - for the third time in four years, your Crimson Tide are National Champions! This giant, beautiful item is part of BSI's premium-quality Fabric Banner collection, commemorating the amazing 2012 season, as a great program turned into one of football's all-time dynasties. Featuring bold team colors, "Circle-A" crest, "15" football helmet, and official National Championship and BCS Game logos, printed on both sides of a heavy-duty 150 denier polyester flag. Complete with a 1½" pole sleeve at the top, this is an innovative poster product that can be flown on a flagpole outside, hung on a curtain rod inside, or simply pinned to the wall like a regular poster. You can even fold it up in your pocket and take it to the game, letting you to display your passion to the world and maybe even get on TV! A bold, brilliant, historic banner that will last for ages - a must for any true fan, especially if you lived through the glory of the amazing 2012 season!
Shop for more related posters in these collections:
---
We Also Recommend