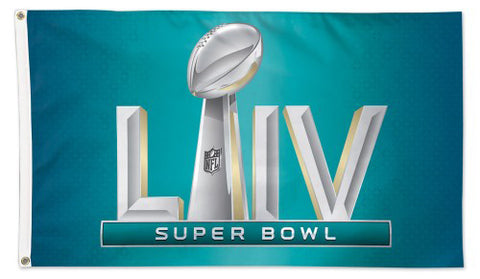 Super Bowl LIV (Miami 2/2/2020) Official Game Logo Deluxe-Edition 3'x5' Flag - Wincraft Inc.
Publisher: Wincraft Inc., Made in USA!
Size: 3' x 5' Flag
Condition: Brand New!

Item #: WI-FLAG-340
---
---
The biggest, boldest way to celebrate America's greatest sporting event on the calendar - the NFL's championship game, the Super Bow! Own the official flag of Super Bowl LIV, held at Hard Rock Stadium in Miami, Florida on February 2, 2020, with this entry in Wincraft's three-foot-by-five-foot flag collection. With the unique 2020 South Florida-inspired color scheme highlighting the LIV Vince Lombardi Trophy logo art printed with top-quality color-fast dies on premium domestic polyester, this long-lasting deluxe-edition flag comes with super-strong metal grommets for flagpole attachment, or you can simply hang it on the wall. An amazing collector's item for serious fans! Super Bowl items are always published in limited quantity and are made available for a limited time; don't miss your chance at this one, order now to avoid disappointment.

Shop for more related posters in these collections:
---
We Also Recommend