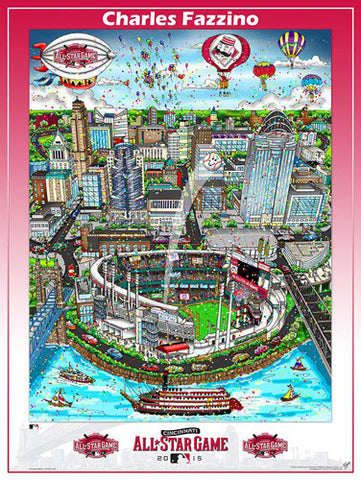 MLB All-Star Game 2015 (Cincinnati) Commemorative Pop Art Poster by Charles Fazzino
Publisher: Museum Editions, Ltd., Made in USA!
Size: 18" x 24"
Condition: Brand New! Printed on premium-quality gallery stock.

Item #: FAZ-028
---
---
Welcome to the Midsummer Classic 2015, as beautiful Great American Ball Park becomes the center of the baseball universe, and Cincinnati explodes with joy! With the colorful, lively, and joyful style of world-renowned pop artist Charles Fazzino, this poster commemorates the 2015 Major League Baseball All-Star Game held on July 14, 2015. Packed with endless detail, you'll never stop finding new, interesting, fun, and often hilarious things in the art, designed to bring out the best of the true character of the host city and stadium. Set in a spectacular layout that includes the game title, attractive graphics, all official trademarks, and the official game logo, this is both a beauty for your wall, and a valuable collector's item for years to come! Don't miss your chance at this one - all Fazzino posters are published in limited quantity and may sell out at any time. An online exclusive from
SportsPosterWarehouse.com!
About the Artist: Charles Fazzino, graduate of the School of Visual Arts in New York City, is one of the most popular and highly-collected pop artists of all time. During his more-than-thirty years as a pop artist, he has inserted his unique, detailed, vibrant, and three-dimensional style of artwork into the very fabric of popular culture. Fazzino's artworks are exhibited in hundreds of museums and galleries in more than twenty different countries. He has received many private and important commissions and has been selected as the official artist for festivals and events all over the world. Charles is often referred to as a pop culture historian because of the breadth of his work and the way it touches his collectors and captures the best parts of their contemporary lives. His legacy will mark him as part of the next generation of famous pop artists as he follows the paths originally forged by pop art pioneers such as Andy Warhol, Keith Haring, Red Grooms, and Roy Lichtenstein.
Shop for more related posters in these collections:
---
We Also Recommend